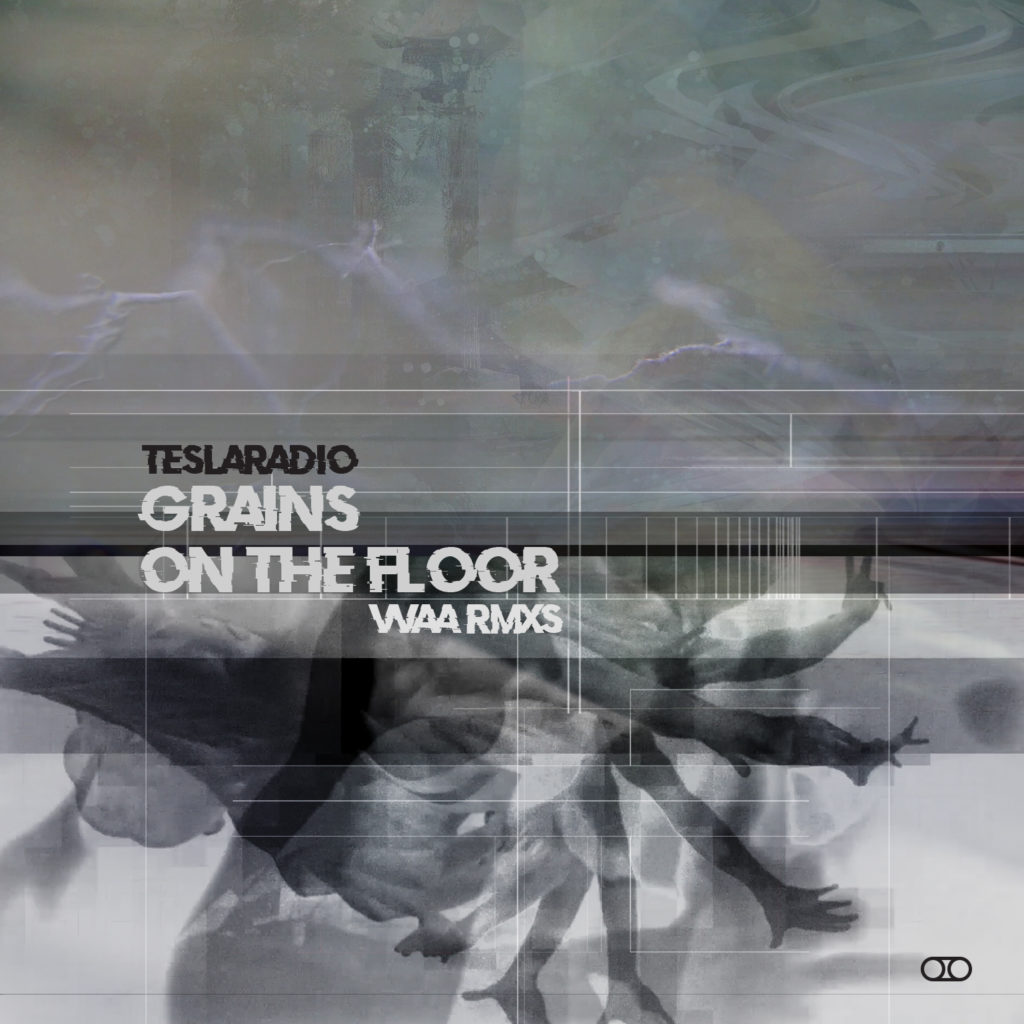 Grains on the Floor lleva a la pista de baile los 11 cortes del álbum GRAINS de Chinowski Garachana aka TESLARADIO (Sevendipia Records 2021) remezclados por 20 productores y 8 visualistas de todo el estado.
Grains ha tenido la capacidad de hacer girar a su alrededor cerca de 50 artistas audiovisuales en sus dos entregas posteriores: GRAINS REMIXES & VISUALS (Oigovisiones 2021) y este trabajo que tienes ahora en tus manos GRAINS ON THE FLOOR (Toroide 2022).
La fuerza centrípeta de Grains, con su drone precioso y poderoso, ha reunido a músicos y productores repartidos por toda nuestra geografía y que, a modo de granos de arena, se han visto atraídos por su enorme magnetismo.
Granos dispersos durante quizás demasiado tiempo, han mutado en una sólida roca y gracias a Grains on the Floor podemos apreciar sus múltiples facetas.
El drone como sonido total, como la nota infinita que alberga dentro de sí todos los géneros, todos los estilos y, cómo no, el baile, ese latido profundo en su interior.
Jordi Giráldez / Comisario y co-productor
Grains on the Floor brings to the dance floor the 11 tracks from the album GRAINS by Chinowski Garachana aka TESLARADIO (Sevendipia Records 2021) remixed by 20 producers and 8 visualists from all over the state.
Grains has had the ability to revolve around 50 audiovisual artists in its two subsequent releases: GRAINS REMIXES & VISUALS (Oigovisiones 2021) and this work that you now have in your hands GRAINS ON THE FLOOR (Toroide 2022).
Grains centripetal force, with its beautiful and powerful drone, has brought together musicians and producers dispersed all around our geography and who, like grains of sand, have been attracted by its enormous magnetism.
Grains scattered for perhaps too long have mutated into a solid rock and thanks to Grains on the Floor we can appreciate its many sides.
Drone as a total sound, as the infinite note that houses within itself all genres, all styles and, of course, dance, that deep heartbeat within it.
Jordi Giráldez / Curator and co-producer
Concepto: Chinowski / Teslaradio
Comisariado: Jordi Giraldez
Diseño: Ángel Galán
Masteriza: David Mata
Produce: El sueño de Tesla / Toroide / Jordi Giráldez
Publica: Toroide en colaboración con Sevendipia Records y Oigovisiones Label
Toroide hybrid label 2022. License Creative Commons By-Nc-Sa 4.0
Música:
Chinowski / Ylia / Okkre / Antekre / Anarco / Judy / Lendl / Animatek / Multiman / Structweird / Neukleonen / AZ Rotator / Rec_Overflow / Carlos Suero / Droneghost / Erinaq / STBL / Ilektrismos / Blaper / Essan / Pablo Dread
Visuales:
Madvisuals / Vj Ovideo / Miguel Retamero / Wannacry TV / Ichbinmupi / Saul Wes / Elimaginario Vj / Azael Ferrer / Esquizográficos asociados / Alexis Cruzado aka @prrmb 
Agradecimientos
Pituskaya, Gael, El sueño de Tesla, Jordi Giraldez, Ángel Galán, Toroide, Sergio Rodriguez, Sevendipia Records, Richi, The Lacemaker, Granbengala, Oigovisiones Label, Lee Yi, Manika Flue, Bacterio Electrón, Ecléctica Noize, Oliver Brinkmann, Nolaptopfest, Hackademia, Israel Criado aka Erinaq, Structweird, Cravat, Dode Carmenismo, Caradusanto, Linalab, Hangar, Staf Magazine, Pedro Mariblanca, Vicious Magazine, Transdisciplina, Alexis Cruzado, Azael Ferrer, Paloma Peñarrubia, Bromo, Alejandro Lévar, Dispar, Julian Calvo, Maledictis Productions, Marta Verde, Manu Retamero, Befaco, Winter Modular, Juan Musik, Edu Comelles, Audiotalaia, Nigul, Javier Melgar aka Animatek, Sr Aye, Ruido Vírico, Señora Vj, Emilio Mula, Ana Beato, Alex THG, Cristina Consuegra, MAF, Lana Voronina, Marcelo Exposito, Tecla Lumbreras, UMA, Salvi Laporte y La Casa Invisible.
In memoriam Alexis Piédrola
"Grains on the floor" is the evolution of "Grains" project by Teslaradio.
USB MetalCard Limited Edition [ BUY LIMITED EDTION ]  20€
– USB MetalCard contains:
Teslaradio "Grains on the floor" vol.1 + vol.2 (VVAA RMXS)
Telaradio "Grains" (original LP. Sevendipia records, 2021)
– Paper Sirio Pearl Platinum 300 gr
– Plantable card
– Sticker toroide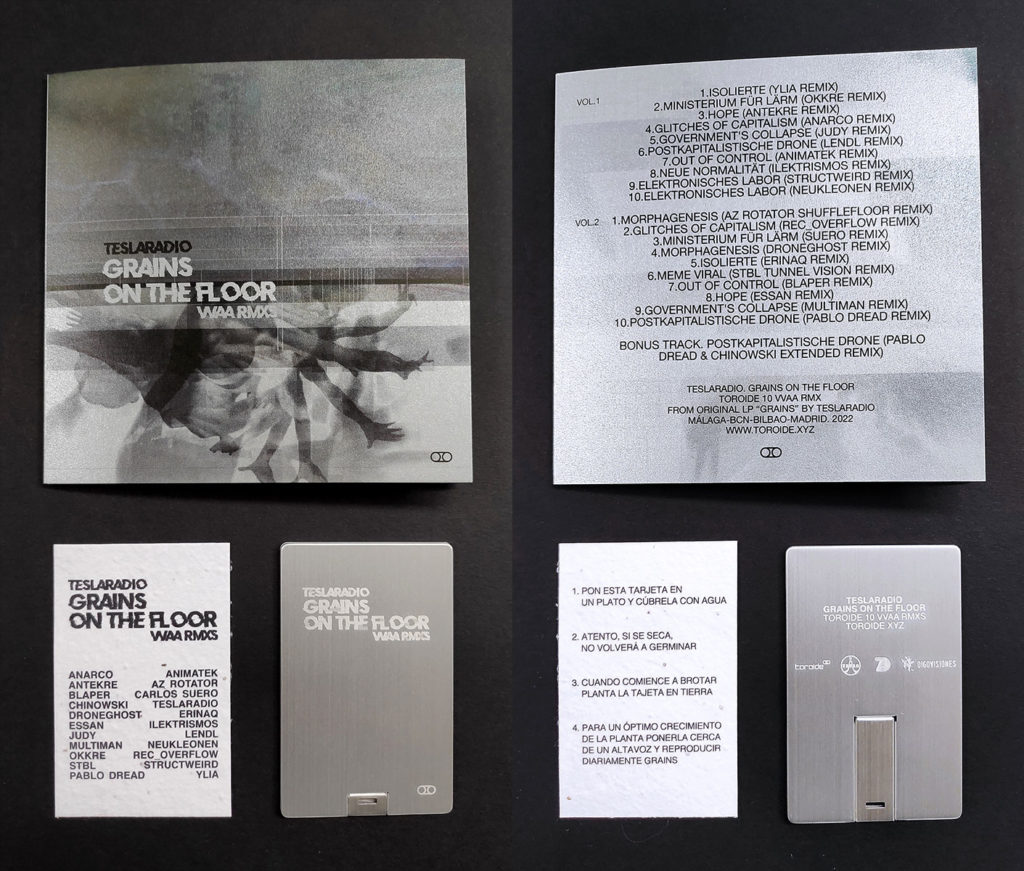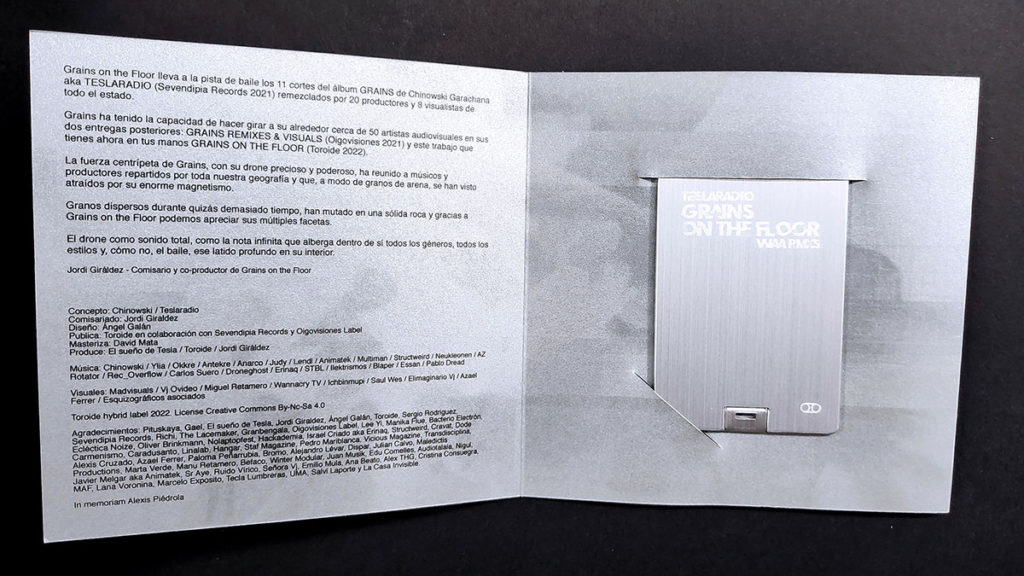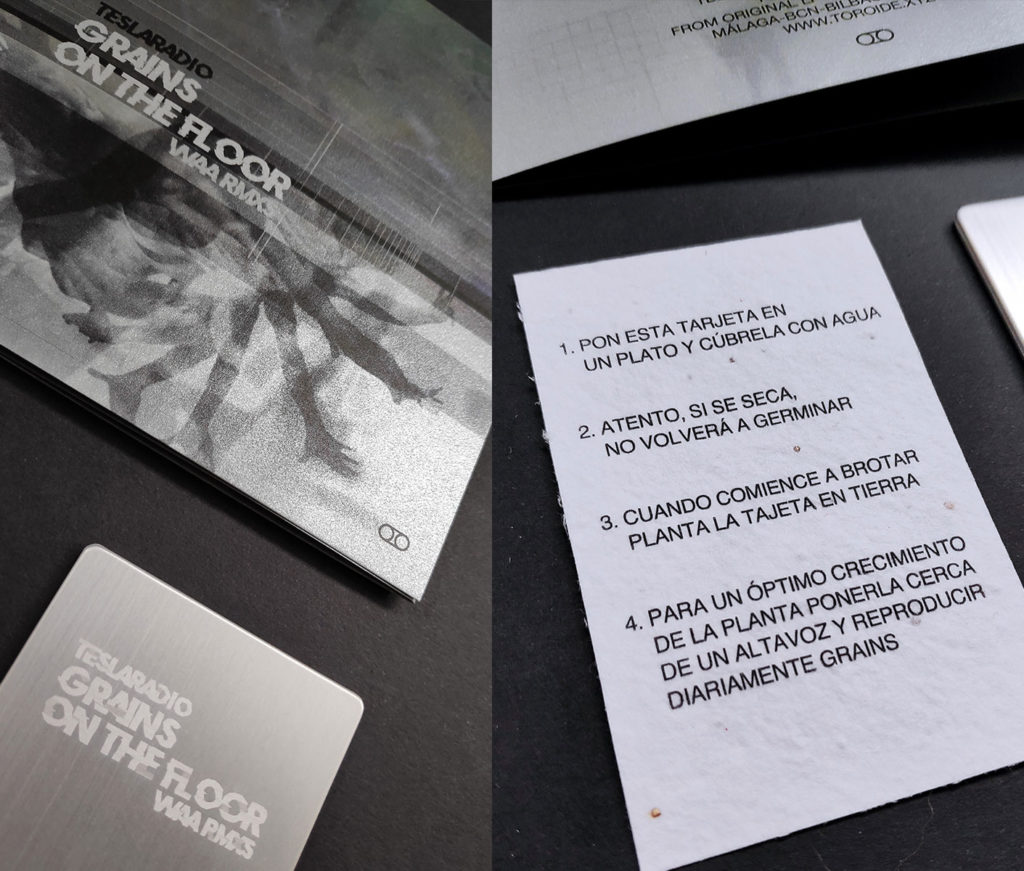 Teslaradio. Grains on the floor.
TRD_010
Type: Audio & Video. Music.
Format: Digital, USB limited edition
Genre: IDM, Dub Techno, Techno, Electronic
Published in feb 2022